We have a full look at the range of phones Verizon Wireless will be announcing at CTIA. The list is long, and a few of these phones have leaked out in the past. But, we have compiled the full 13 phones that Verizon will be announcing tomorrow at the show. Read more to see the full list and details on each.
Most images available in high definition… click to enlarge.
First, The Pre-Show Announcements
As expected, Verizon has announced a small list of pre-show announcements. This is not going to be the full range of devices announced at the show, and most are actually already available on other carriers:
LG VX9100 enV2
The enV2 will replace the aging LG VX9900 enV in Verizon's lineup. It offers a smaller form-factor and microSDHC support. In addition, it will be the first LG phone on Verizon to support text-to-speech.
Motorola Q9c

A business variant of the Motorola Q9m. Different external casing, and GPS navigation will be pre-loaded. No word on when… or even if… Q9m users will receive a firmware update to add GPS (though there are no technical reasons precluding such an update, business factors will make that decision).
HTC VX6900
Verizon's version of the HTC Touch. No word yet if GPS will be enabled at-launch, or if the device will be running Windows Mobile 6.1.
BlackBerry Curve 8330
The Curve has been long-rumored and well reported in the past by PhoneNews.com. The phone features are almost identical to that of the existing 8130 Pearl, but with the Curve line's traditional full QWERTY keyboard. Contrary to incorrect media reports from others, the phone does indeed ship with VZ Navigator GPS navigation software. However, unlike other Curve models on GSM, the unit does not have Wi-Fi.
Samsung Alias
This phone is simply the SCH-U740 with new branding, and in fact, Verizon has already been promoting the SCH-U740 with the Alias moniker attached to it. Verizon is re-announcing the Alias with a slightly-improved keyboard. PhoneNews.com's review of the SCH-U740 didn't attack its keyboard, but rather, its software… which does not appear will be updated.
Samsung SCH-U470 Juke Prepaid
The same Juke this week was officially launched as a Prepaid phone variant. MSRP on the phone will be $124.99.
Next, the manufacturer announcements…
These are phones we expect to be available in some fashion on the show floor. It is not a complete list, but sources have confirmed these phones for Verizon Wireless.
LG VX8610 Decoy
Not only will this phone be replacing the VX8500 (trading a touchpad for a trackball), but this slider is the first phone to have a built-in Bluetooth headset. The small headset pops out of the back of the unit, and will also charge while sitting inside the phone. This feature is aimed at drivers who will be forced to use hands-free communications, but don't want to carry a headset around.
LG VX8560
The VX8560 will replace the VX8550, adding a bit of variation to LG's lineup on Verizon. The VX8560 retains the click-wheel, but in a flip form-factor. This phone may also replace the VX8700 shine, which has not sold as well as Verizon and LG expected.
LG VX9700 Dare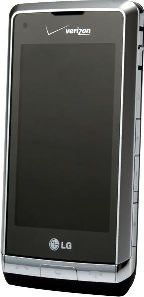 The VX9700 will finally deliver a true version of LG's Prada phone in Europe, to CDMA. While the Voyager was originally intended to do this, the Voyager simply added Prada's touchscreen to the existing, enV-based phone.
The VX9700 will carry a 3.2 megapixel camera, and "full QWERTY keyboard", though it appears this keyboard will be visual/touch, similar to Apple's iPhone.
Buy a Dare from Verizon Wireless
Nokia 6205 & 7205

As previously shown on PhoneNews.com, the 6205 will mark Nokia's second return to CDMA phone development. We expect it will be on the show floor as Nokia CDMA typically exhibits new offerings at the show. The 6205 will be offered on Verizon in both Blue Silver and Black. The 6205 is a 1xRTT-only mid-range phone with no memory card slot.
The high-end 7205 (also previously covered) will add EV-DO to the Nokia lineup, but it will be delayed to late second quarter, possibly early third quarter. Verizon does not plan to offer the 7205 until after mid-June, though they do plan to offer the 6205 as early as next month. No word on if the 2605 (voice only) phones will be shown. It also still is not clear if these phones are powered using Nokia's Series 40 platform, or if they are externally sourced from a third-party.
Buy a Nokia 6205 from Verizon Wireless
Motorola W755
The W755, as we previously reported, is a mid-range phone that is similar in features to the older Motorola K1m KRZR. 1.3 megapixel camera, bluetooth, and V CAST appear to round out the feature set. The phone features a re-styled external touch pad that moves the keys around the external display.