By Humberto Saabedra on October 19, 2012
StraightTalk relists 3 Nokia smartphones after weeks of being out of stock on the 6790, E5 and E71, while Walmart cuts pricing on the Proclaim by $30.
Posted in Android, AT&T, Symbian, Verizon, Virtual Operators (MVNOs) | Tagged Nokia, StraightTalk | 1 Response
By Christopher Price on July 21, 2012
It's as grim as RIM, and somehow, Nokia may be making it worse… on themselves, and developers alike.
Posted in Microsoft, Nokia, Symbian, Windows Phone | Tagged Gravity, Nokia, Symbian, Windows Phone | 3 Responses
By Humberto Saabedra on June 21, 2012
Amazon and Nokia will work together on the US release of the Symbian-powered Nokia 808 PureView, the first smartphone with a 41 megapixel camera in the US market
Posted in Nokia, Symbian | Tagged Nokia, PureView 808
By Humberto Saabedra on May 10, 2012
Nokia's latest imaging flagship first announced in February will be making it to the US after all, but will not be carrier subsidized as expected.
Posted in Nokia, Symbian | Tagged Nokia, PureView, Symbian | 1 Response
By Humberto Saabedra on February 10, 2012
Thanks for your patience @bittersw8regene. Unfortunately the Nokia Astound on T-Mobile will not be updated to Nokia Belle. — Nokia US (@NokiaUS) February 8, 2012 Owners of the T-Mobile version of the Nokia C7-00 Symbian smartphone are set to experience what owners of the Dell Streak 7 4G version did, as the carrier is actively […]
Posted in Nokia, Symbian, T-Mobile | Tagged Astound, C7, Nokia, T-Mobile
By Humberto Saabedra on October 24, 2011
After months of anticipation, Nokia has officially begun its roll out of the Symbian Anna update for the US NAM versions of the N8, C7, C6-01 and E7. The update makes major and minor changes to the operating system such as a portrait virtual QWERTY keyboard and changes to the photo gallery as well as instant […]
Posted in Nokia, Symbian | 1 Response
By Humberto Saabedra on June 30, 2011
Nokia has announced that it will roll out updates to select phones running Series 60 3rd Edition Feature Pack 2 and Series 60 5th Edition which will include the Symbian Anna web browser, which adds support for non-ASCII characters, international domains, and will render web sites faster. The update will also update Ovi Maps, adding […]
By Humberto Saabedra on June 14, 2011
Nokia has announced new features being added to the Symbian Anna update for the N8 coming in the next few weeks, with key features taken from hacks performed by the Symbian community. When the update for the N8 rolls out it will add continuous autofocus for video capture and full 720p30 video resolution for video […]
Posted in Nokia, Symbian | Tagged n8, Nokia, Symbian | 1 Response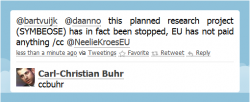 By Humberto Saabedra on May 24, 2011
After first being announced in November of last year as a last ditch effort to save Symbian following the failure of the Symbian Foundation to reach its stated goals, the European Commission's SYMBEOSE initiative has been canceled without the intended 22 million euro loan changing hands. The SYMBEOSE consortium was intended to turn Symbian into […]
By Humberto Saabedra on April 27, 2011
Nokia has confirmed that it will cut 4,000 jobs related to research and development as well as an additional 3,000 via outsourcing contract to outsourcing firm Accenture, moving the internal Symbian development team to the firm in an attempt to save US$1.46 billion in R&D costs by 2013. The new deal is a further expansion […]
Posted in General News, Legal, Nokia, Symbian | Tagged Nokia, Symbian