A combination of leaked press images for the unexpectedly popular Palm Centro featuring Verizon branding and an information slide regarding two competitors to Sprint's new Direct Connect service have surfaced. Hit the Read More link for all of the details.
Update: We have posted a new article clarifying the current situation regarding QChat.
The Palm Centro has become a surprise hit for the venerable but struggling smart device developer, with versions on AT&T and Sprint quickly becoming some of the most popular devices in terms of sales, due to its complete feature set and surprisingly low entry price for a smart device.
Image courtesy of Engadget Mobile
The above image shows Verizon branding on the device, which correlates speculation that the device is expected at the end month of May and is expected to be identical to the version available on Sprint with EVDO, 1.3 megapixel camera, speakerphone, media player, Bluetooth, and microSD expansion slot. The new blue color was launched at the beginning of the month on Mexican GSM carriers Telefonica Movistar and Telcel, and Palm currently has not confirmed any information in regards to the pending release.
Verizon is also solidifying plans to offer a competing QChat based push to talk service to answer Sprint's current dominance and leadership of the push to talk market.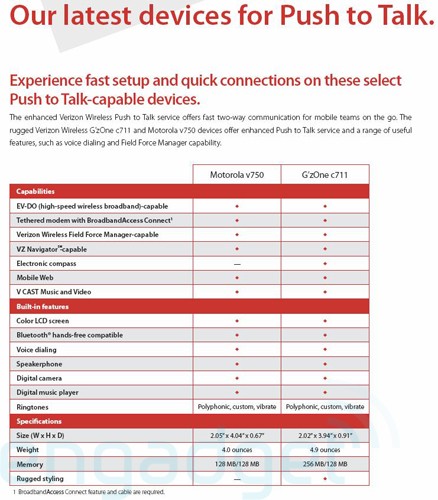 The first two devices from Verizon featuring Qualcomm's QChat push to talk solution are expected to launch sometime next month. QChat relies on the EVDO Rev. A data service in order to deliver sub one sceond connection times.
There has been some confusion on whether Verizon could even deploy QChat, with the platform having roots in joint Nextel/Qualcomm development in 2003, owing to the former carrier's preliminary decision to overlay CDMA EVDO access on top of iDEN in order to transition to CDMA. Nextel was eventually purchased by Sprint resulting in finalized development of the platform.
While Sprint does have exclusivity rights regarding interoperability between Sprint CDMA and iDEN devices, the platform itself is owned by Qualcomm and any CDMA carrier interested is allowed to purchase and license QChat for use on their network as an alternative to PoC based solutions provided by Kodiak, Winphoria, and others.
Verizon had previously deployed push to talk services using the Winhoria push to talk platform which relied on the slower 1xRTT NationalAccess network, and was panned for slow connection times, despite having national ad campaigns touting instant access, forcing them to reevaluate the marketability of such services.
Verizon still continues to offer push to talk services on the old platform, even relaunching phones with the capability, but the Motorola W750 and the Casio c711 signal a shift away from the old platform onto QChat.
Both phones are expected to feature EVDO Rev. A access, large amounts of user accessible memory (128 MB for the c711, 256 MB for the W750), tethering capability, GPS access with workforce management solutions, media players (a first for a Casio phone on Verizon), digital cameras of an as yet unknown resolution, Bluetooth, and speakerphone.