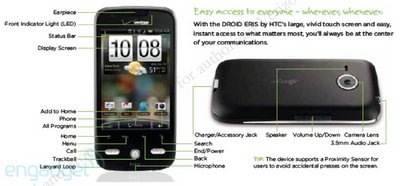 Image courtesy of Engadget Mobile
On the same day as the launch of the Motorola DROID, HTC will be launching its DROID series device in the HTC Eris for Verizon, which will also mark the debut of the DROID branding as a series of devices on Verizon Wireless.
The HTC Eris is functionally identical to the forthcoming Sprint Hero with Android 1.5, 3.2 inch HVGA resolution capacitive touchscreen display, HTC's Sense UI overlay, 528 MHz Qualcomm MSM7600 processor with 512MB RAM/288MB ROM, microSDHC expansion slot with pre installed 8GB card and 5.0 megapixel camera with video recorder.
Pricing is set at $469.99 Retail/Month-to-Month, $269.99 after a new 1 year agreement and $199.99 after a 2 year, with the $100 mail-in rebate bringing the totals to $169.99 and $99.99 respectively, undercutting the Sprint Hero by $80.