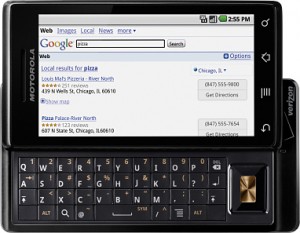 Motorola, and Google, have done something that no other phone has done before. They have built a phone better than any iPhone. Now it gets interesting.
First, we'll get the obligatory iPhone boilerplate out of the way. Yes, contrary some fist shaking, iPhone (3GS) was the phone to beat, until today. Be it in the performance arena, the App Store arena, be it the basket of features or the pure style… adding it all up, iPhone stayed ahead.
So, how does Droid force Apple back to the drawing board? The sum of its (new) parts.
Motorola and Google have unloaded a ton of new technology into Verizon's first Android phone. Google has brought Android 2.0, along with the world's first free turn-by-turn live GPS solution. Motorola matched that with hardware that reminds us why Motorola has stayed relevant in the industry.
I have to admit, we were skeptical about Droid's design. It looked like Motorola's Sidekick… a match made in hell, with design language to match. Holding Droid however is a completely different story. It looks amazingly well-built. The in-hand build quality even manages to surpass that. This phone is a winner in the design category. In short, it's thin. The keyboard and display sections are evenly distributed, the lower half of the phone is only slightly thicker than the display portion.
So, we'll cut to the chase. We like small reviews now, we think you will too. Here's why we it's the best smartphone out there, the new phone to beat. Android 2.0, combined with the 550 MHz processor that Droid carries, sets a new standard. Literally, from start to finish, it beats the iPhone. Verizon Wireless's EV-DO Rev A network also makes the ping rates and throughput of AT&T's HSPA network frown. Make that seriously frown. Verizon and Droid beat AT&T and iPhone in nearly every web page we loaded, and both sported excellent reception (our offices happen to be under a jointly-shared cell site for both companies).
It's important to note that the 550 MHz CPU that the Motorola Droid carries is using a different core from comparative Samsung or XScale-derrived processors. The megahertz myth is a live and well in the mobile sector, as the performance yield per clock cycle means that Droid rivals 1 GHz Snapdragon phones. It is also why phone makers always hesitate in touting the processor of a phone…
But it's the small things that this fusion create that make the difference. There is no lag in this phone. None. No "screen blur for 4 seconds while rotating". No "wait for the on-screen keyboard to appear". No "wait for apps to toggle". And, no "wait for the interface to draw from one screen to the next." If you've used Android, this is music to your ears. If you haven't used Android, we strongly suggest starting with the Droid, you won't look back.
Oh, and be sure to try out the accelerometer. It's faster than iPhone… something we weren't sure Android's Dalvik platform could ever pull off.
Likewise, the keyboard is a sigh of relief. We've been waiting for a good Android phone to replace the T-Mobile G1 for having a keyboard and touch screen. The Samsung Moment on Sprint has been long-awaited for this reason. Thankfully, the keyboard on Droid is excellent. It's flat, but a easy to use. The layout is well-articulated, with dual alt keys on both ends of the keyboard, and excellent backlighting. It's the best keyboard on any Android phone released to-date.
This isn't to say that Android was dysfunctional before Droid, far from it. Droid and Android 2.0 simply put it on a new playing field. A playing field where you can multitask like a Palm Pre, but with the native code that Android 2.0 allows. Oh, and that brings us to the other side: Android 2.0's future in the App Store arena.
First, we'll talk about what Android 2.0 and Droid deliver today. The long-rumored and sometimes-shown new Android Market is in-place and fully working. It's faster than iPhone by a mile. Apps install instantly. We could not find an app that took more than 10 seconds to install. Try that with an iPhone. Try that with Windows Mobile, or even the Palm Pre. We've suffered through the freezes, stalls, and lag on their app stores. Not so on Droid. In short, it just works.
Car mode is a nice touch. We'll be reviewing Android's Maps with Navigation beta in a separate article (since it is in beta, and we don't cast judgement on betas). But, for those of you not glued on every move that Droid has made, Car Mode is a special GUI written by Google for devices that function well in cars. We expect that to mean all future phones, but for now, it's only on Droid. At first, you might get the notion that it isn't necessary. But, then you touch the voice search button, and fall in love. It has the best voice recognition we've ever seen on a phone. There are some faults, for example, Voice Search doesn't connect with Bluetooth voice commands. So, you can't tap the screen and say "call 800-466-4411", but you can say "directions to Best Buy" and Maps will load ready to start a new turn-by-turn GPS session.
Basically car mode takes the taps out of driving. Voice commands route to their natural functions. If you're saying something related to a web search, it loads Google and runs the search. If you're asking for something related to GPS, it takes care of tapping through all the menus for you… since, you're, well, driving.
Not a 360-point landing
There are some faults though. The "with Google" branding stifles innovation. No HTC Sense UI here. While Sense UI blew away CLIQ in our offices, the lack of both is a bit painful. It means juggling IM apps, weather widgets, and other stuff that should just be there. This isn't as much of a concern to the tech-savvy, as it is to those that are new to smartphones. With Sense UI, they get an instant level of data integration that would be cumbersome for the average person to get acquainted to all at once.
There is a real fear to "with Google" that is still present. And, that is that many will only use it as a glorified web browser and email client. They will miss out on the key features that can be tapped into with this powerful, multitasking phone.
Oh, and please, give us pinch and zoom. If HTC can implement it by dropping the With Google, why can't Google embrace gestures? They seem to have no problem with flicking, but pinching still escapes them. Because Android 2.0 is so responsive, it's not as much of a concern… but it's still a concern near the top of the list.
The road ahead… now with Navigation and Street View…
For Droid to thrive, developers will have to up the ante as well. Android is still, unfortunately, cumbersome to take full advantage of. The abstraction of native code gives iPhone a waning edge. Google continues to cut off their nose, in order to spite their own never-native face in this regard. Android is an Operating System, and Google needs to accept that its head is, still, stuck in the clouds. To take advantage of the arsenal of OpenGL power that exists in Droid, Android must give a better C implementation, and fast.
Thankfully, Motorola has done the hard work, of building a device that shows how imperative the notion of simple native code is. With Palm stuttering on the subject, Symbian in shambles, Maemo not out of the gate, and Windows Mobile admitting their weakened state… Android has the sole power to make their native code suite robust, and challenge iPhone at what they do best (and still be open, too).
For Motorola, there are some other complaints. For example, the camera is not at the top of the universe. HTC's Hero camera is superior, with touch-on-autofocus and a more robust camera app. Again, "with Google" branding probably forced Motorola to use the Android 2.0 camera app. We were looking for more here, and we'll post photos in a follow-up. Still, kudos for the dedicated pressure-sensitive camera button.
The screen size also leaves us a bit perplexed. It's an odd one. It isn't as wide as a standard 3.5 inch, but is longer, giving it about double the resolution of iPhone, while only weighing in at 3.7 inches total. It seems nice and long for vertical reading, but in landscape mode has us asking for more. Lots of pixels, but slightly sub-par longitude on the display front. At least it's bright and responsive.
Finally, Verizon seems to have spent a lot of effort making the battery door easy to open. While battery life will take some time to fully condition, owners can rest assured: Moto Droid is no Palm Pre. Unfortunately, the battery has to be removed to change the microSD card slot. We prefer thin devices, and we certainly prefer microSD over narrow-minded phones that lack any form of capacity upgrade. However, having to powercycle a phone this modern just to copy a few files over to the microSD card seems short-sighted.
Verizon has some work, too. The only app they offer right now is a $2.99/month visual voicemail application. While VZ Navigator has been made obsolete by Google Maps with Navigation, their other services; V CAST Video and V CAST Song ID, as well as an on-device account management app, all could bolster the Droid movement for the company.
Another note to Verizon. Developing your own Android UI would be a fatal error. We still have to ding each and every non-smartphone on Verizon for their battery draining, useless, damaging smartphone UI. Worse, Verizon knows it drives customers into buying smartphones, and we really hate that kind of crippleware. Leave your in-house developers to in-house apps, and not into cushy for-life jobs controlling Android UI on Verizon (yeah, we know that's how Verizon BREW UI got the green light).
One Final Thingâ"¢ that we would like to see on the device, is a 2GB microSD version. Many people already have large microSDHC cards, and don't need to pay for the bundled 16GB card that comes with the phone. At least as an online-only option, offering a $179 version with a small memory card would be better for everyone.
Conclusions, Final Thoughts
The CLIQ and Droid clearly come from different camps. The Motorola CLIQ was meant to be a Sidekick killer. Not bad timing for that, either. Droid was built for a different purpose, to give Motorola new life with the most informed customers in the world. It's the new superphone.
But, as usual, we love competition. Droid will make the competition finally ask questions that they've tried to dismiss. Like, why can't I have a phone with a great keyboard, and a giant touchscreen? Or, why can't I have a phone that is at the top of the power heap, and has removable storage? And, why am I paying to use that GPS chip in my phone, when the maps are already free? These are questions that have been out there for a long, long time. Droid combines power that will keep the tech-savvy, with a phone that answers all the checkboxes.
Motorola has just reinvented themselves, and we can finally say that with a smile, not the perpetual chagrin that we're unfortunately become all too accustomed to about the company.
Pros: Lag-less UI, Android 2.0 power, Great keyboard, Extremely fast processor, Free GPS navigation
Cons: No multitouch UI, Stifled "With Google" options, Moto's typical weak camera performance
Final Score: 5/5
FTC "Change You Shouldn't Believe In" Boilerplate
We get devices from a lot of sources. As a general rule, we only review products that companies or other industry insiders send us. This makes sure everyone is on an even playing field, and we do not solicit paid reviews of products or services. We believe that the purpose of reviewing devices is not to tell consumers to try out phones, but to tell companies where consumers want to see improvements.
That all said, we do love your comments and questions, so please share them below!