Nokia's N-Gage blog has confirmed in a post that it will shutter the N-Gage mobile gaming service and community next year in order to shift focus towards gaming on its Ovi platform.
The N-Gage platform debuted in 2003 as a dedicated gaming handset powered by a modified Series 60 and brought many innovations to the mobile gaming space such as Bluetooth multiplayer gaming, online gaming over GPRS data service, leaderboards and other functionality not seen in mobile gaming until then.
The execution of the platform left much to be desired, as the N-Gage handsets were widely considered awkward for gaming as well as stiff competition against incumbent Nintendo and further competition from Sony in terms of recognition and games, many developed by the same major third-party publishers.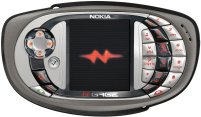 After lackluster sales and one hardware revision in the Nokia N-Gage QD launched in 2004, Nokia relaunched N-Gage to much fanfare in 2008 as an application compatible acrosss many Nokia handsets, but the platform still suffered from lack of adoption in major markets, handset and game costs as well as a lack of major publicity.
The service will still be supported until sometime in 2010 and purchased games will still be available for recovery until then as well.