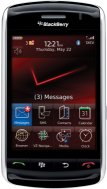 After a quasi-announcement earlier this month, Verizon has announced the forthcoming launch of the BlackBerry Storm 2 this week.
The BlackBerry Storm 2 features a 3.25 inch 480 x 360 capacitive touchscreen display with integrated Send, End, Menu, Escape functions and new SurePress technology, EV-DO Rev A/UMTS/HSPA on 2100 MHz and quad-band EDGE/GPRS/GSM networks for international roaming, new Wi-Fi radio, 256 MB of RAM, 2 GB of onboard storage and a microSDHC memory card slot with a 16 GB card included.
The rest of the featureset consists of BlackBerry OS 5.0, improved BlackBerry Browser, 3.2 megapixel camera with autofocus, image stabilization, flash and video recorder, background noise cancellation technology, distortion-free speakerphone and proximity sensor.
Rounding out other features is a new media player with support for BlackBerry Desktop Manager for Windows/Mac and BlackBerry Media Sync support, 3.5 mm headphone jack and dedicated volume controls, Bluetooth 2.1 with support for Secure Simple Pairing, GPS as well as photo geotagging support.
The phone will be available on Wednesday for $539.99 Retail/Month-to-Month, $349.99 on a 1 year agreement or $279.99 on a 2 year agreement, both before an additional $100 mail-in rebate, bringing the totals to $249.99 and $179.99 respectively.