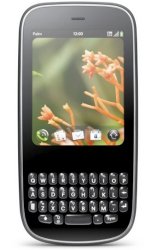 Sprint's official bulletin board has confirmed that pricing and launch details for the Palm Pixi webOS device will be announced at 9AM CDT/10AM EST/8AM PST today.
The Palm Pixi was originally meant for AT&T according to leaked information in June, then Palm made a surprise announcement in September not long after the launch of the Pre.
The featureset consists of 8GB onboard storage, 2.0 megapixel camera with flash and video recorder, a full QWERTY keyboard, a 2.63-inch 320 x 400 resolution capacitive touch display with the customary ringer on / off switch and 3.5mm headphone jack as well as a removable 1150mAh battery.
Unlike the Pre, the Pixi will not feature a Wi-Fi radio and will solely depend on EV-DO Rev. A access.
Update: From the press release, the Pixi will cost $99.99 with a two-year agreement after a $50 instant rebate and $100 mail-in rebate. It will be available at Sprint stores, online, through telesales, at Best Buy, RadioShack and select Wal-Mart stores on November 15th.