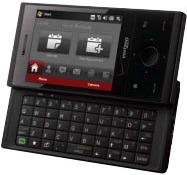 New information has surfaced on Verizon's variant of the HTC Touch Pro known as the XV6850. The device will launch on November 24th online and through Telesales with retail availability set for December 1st.
The device will be identical to the Sprint HTC Touch Pro with Windows Mobile 6.1 Professional, VGA resolution display, TouchFLO 3D with Verizon customizations, EVDO Rev. A., 528 Mhz clockspeed, 192 MB of system ROM, 512 MB of RAM, accelerometer, Wi-Fi, microSDHC expansion slot, Opera Mobile browser, VZNavigator support, VZAppStore support, speakerphone, 3.2 megapixel camera with autofocus and flash, with full support for editing Word, PDF, and Excel files.
The device will retail for $539.99 without contract, $489.99 after a new 1 year agreement, or $419.99 after a new 2 year agreement before additional $70 rebates, bringing the totals to $419.99 and $349.99 respectively.