Update: Verizon has launched the Wireless Network Extender for $249.99 and will only be charging for the unit itself.  Unlike the Sprint Airave, there are no additional monthly fees associated with use of the Extender while also allowing for either open access or priority access to Verizon Wireless subscribers.
Buy the Wireless Network Extender from Verizon Wireless
New launch information has surfaced on Verizon's intentions to release a femtocell direct to consumers who wish to improve indoor coverage.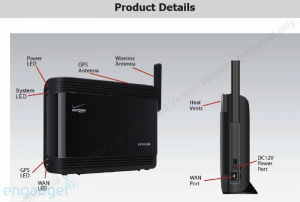 Image courtesy of Engadget Mobile
The Verizon Wireless Network Extender (sourced from Samsung) will launch on January 25th through retail stores and online for $249.99.  It features identical functionality to Sprint's Airave with the capability to allow three simultaneous handsets, a dedicated fourth channel for emergency calling, and GPS location to ensure the device is being used within the country and coverage area.
The biggest difference between Verizon and Sprint however, is price.  Verizon will be charging $249.99 for the device with no immediate word on any monthly fees, while Sprint charges $99.99 for the Airave with additional monthly access fees.