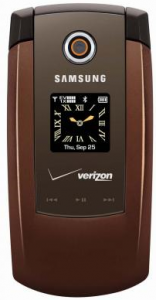 New information has surfaced regarding Verizon's second dual-mode GSM/CDMA handset in the Samsung Renown clamshell.
The handset will launch first online and through Telesales at a cost of $349.99 Month-to-Month, $299.99 on a 1 year agreement, and $229.99 on a 2 year agreement before an additional $50 mail-in rebate, bringing the totals to $249.99 and $179.99 respectively. Retail availability is set for December 1st.
The phone will feature a quadband GSM/EDGE radio locked to Vodafone and partner networks for international roaming, external touch sensitive media player controls, Bluetooth with stereo audio support, 2.0 megapixel camera with video recorder, GPS support through VZNavigator, voice control, speakerphone, and a QVGA internal display.