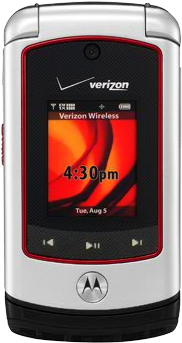 Verizon has announced the launch of the first of their highly anticipated EVDO Rev. A Push To Talk capable handsets today through telesales and online.
The Motorola Adventure V750 is one of the first handsets from the carrier to support its new EVDO Rev. A based Push to Talk service, as well as one of the growing lineup of Verizon non-smartphones with EVDO Rev. A access next to the LG Dare.
The featureset for the clamshell includes a 2 inch QVGA internal display, GPS support through VZ Navigator with added support for Field Force Manager software for real-time management of fleets and/or personnel, a 2.0 megapixel camera with video recorder, microSDHC expansion slot, Bluetooth with stereo audio support, external media player controls, speakerphone, and an M810F certified bodyshell for resistance to extreme shock and vibration.
The phone is now available from Verizon online for $149.99 before a $50 instant online discount, bringing the total to $99.99 with the phone expected to be available in all retail channels on July 28th.