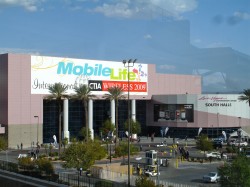 By Christopher Price on January 2, 2013
CTIA will consolidate around its spring show, CTIA Wireless Expo, beginning next year. MobileCON will get one last swan song this fall.
Posted in General News | Tagged cellular telecommunications industry association, ctia, ctia wireless, expo, las vegas, mobilecon, san jose
By Humberto Saabedra on April 22, 2010
The Fall CTIA expo in Wireless IT & Entertainment has been rebranded to the Enterprise & Applications Expo to better reflect the industry-wide shift to the integration of mobile technology and application development within enterprise settings. The Fall edition of the CTIA expo was formerly dedicated to developments in mobile software as well as music, […]
Posted in General News | Tagged ctia, expo, Fall, Rebrand
By Christopher Price on October 14, 2007
CTIA's Wireless IT show has been on-the-rocks for years. In fact, we've concluded every year of Wireless IT expo coverage saying that it was worse than last year's show. Moving the show to Los Angeles last year didn't help matters, in fact, it nearly killed the show off completely. Turnout was so bad, that CTIA […]
Posted in General News | Tagged ctia, expo, wireless it | Leave a response
By Christopher Price on October 2, 2005
Earth shattering? No, not really, but read more to see what happened.
Posted in General News | Tagged activesync 4, cdma, ctia, expo, HTC, IT, macworld, Microsoft, news, treo 700w, UMTS, Universal, wireless | Leave a response