By Humberto Saabedra on May 23, 2013
Samsung leaks two possible editions of the Samsung Galaxy S IV Developer Edition for AT&T and Verizon.
Posted in AT&T, Verizon | Tagged Android, developer, Galaxy SIV, Google, Samsung
By Humberto Saabedra on September 9, 2010
In an about face this morning, Apple has decided to relax the previous restrictions placed on developers regarding development tools used in the creation of iOS applications and has also revealed the guidelines for app approval on the App Store. We have listened to our developers and taken much of their feedback to heart. Based […]
Posted in Apple | Tagged app store, Apple, developer, ios | 1 Response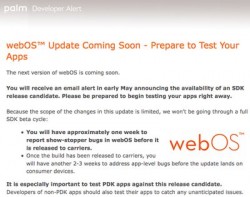 By Humberto Saabedra on May 3, 2010
Palm has begun to notify app developers that the next webOS release candidate is forthcoming, with applications delveloped with the PDK plugin requested to be tested against the release to ensure app stability, as well as apps developed with other tools to ensure compatibility. The above notification places Palm's goal of adding PDK developed aplications […]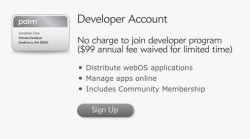 By Humberto Saabedra on April 20, 2010
People interested in becoming Palm webOS developers can now do for free as Palm is waiving the $99 fee for new developer accounts for a limited time while providing all of the information necessary to publish applications on the App Catalog. The move to waive the fee was spurred to stir up more interest in […]
Posted in Nerds, Palm | Tagged Account, developer, Palm, Waived, webos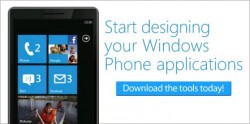 By Humberto Saabedra on March 15, 2010
To kick off its MIX 2010 conference, Microsoft has announced during the conference that it has begun offering the toolset necessary for the development of future Windows Phone Series 7 applications at no additional charge. The new toolset consists of Visual Studio 2010 Express for Windows Phone and the Silverlight-focused Expression Blend for Windows Phone, […]
Posted in Microsoft, Nerds | Tagged Dev, developer, development, expression, expression blend, ExpressionBlend, Marketplace, Microsoft, mix, mix10, silverlight, Windows Marketplace, Windows Phone, windows phone 7, windows phone 7 series, windows phone marketplace, WindowsMarketplace, WindowsPhone, WindowsPhone7, WindowsPhone7Series, WindowsPhoneMarketplace, wp7s, xna | 1 Response
By Humberto Saabedra on January 6, 2010
AT&T has offically announced its intention to carry Android-based smart devices by opening up an email registration page detailing its first three devices from Motorola, Dell and HTC. The confirmation of Dell means that the carrier will offer the Mini 3i currently on sale in Brazil and China, while the Motorola device will be powered […]
Posted in AT&T, BREW, HTC, Motorola | Tagged Android, AT&T, BREW, Dell, developer, HTC | 3 Responses
By Humberto Saabedra on September 22, 2009
Sprint has announced that it has opened developer support for its implementation of Android ahead of the Open Developer Conference in October. While Android allows for general development with portability across implementations in mind, Sprint will enable access its own set of restricted APIs for application development on its slate of Android devices.
Posted in Android, Sprint | Tagged Android, developer, sprint, support
By Christopher Price on March 24, 2006
Sprint's Application Developer Program will be following the trend of other providers such as Cingular and will be offering a Developer Educational series of webcasts. Their first webcast will be on March 29th with three sessions, focusing on developing applications for Power Vision devices. Webcast Registration
Posted in General News, Sprint | Tagged developer, launch, Program, sprint, webcast | Leave a response
By Christopher Price on February 16, 2005
As part of a detailed survey, Cingular requested information as to how to best integrate the former AT&T Wireless devCentral with the Cingular Developer Forum. However, they may have let slip some future directions in their release. Question 15a specifically asks "… what specific BREW network functionality, API's, SDK's, and other developer tools should the […]
Posted in AT&T | Tagged AT&T, BREW, cingular, developer, gsm, qualcomm | Leave a response
By Christopher Price on December 17, 2004
Sprint has recently begun renovating their Developer web site, developer.sprintpcs.com Newly staffed forums (still in-development), a Gallery (which oddly looks similar to the phones section), and even the ability to get some serious development done on MIDP 2 phones (such as finding out how to license GPS, and enable developer root). For some reason, we […]
Posted in Sprint | Tagged developer, sebu, site, sprint | Leave a response