A full review of the first Google Android phone. Is the T-Mobile G1 a paradigm shift in mobile computing? Read more to find out.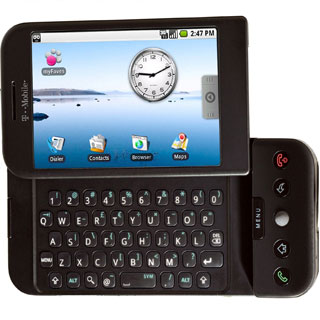 Plus, a few things about Android that you won't find in any other review…
First Impressions, Basic Phone Functionality
Let's get this out of the way… there isn't any wow-factor when you take the phone out of the box. Walking around town with the phone, there weren't the people dropping their jaws when the phone was pulled out. The G1 is a 2006 version of the HTC Wizard, the AT&T 8125, and the PPC-6700 on Sprint and Verizon. The only major difference, is that it has a spring loading keyboard, and a trackball. In short; it's thick, it's a brick.
But, the wow factor starts when you hit the power button. Normally, when you think of an HTC device, you think of a tank. It's big, it's slow, but eventually it gets the job done. It took the threat of a class action suit for HTC to realize that drivers actually matter in a Windows Mobile phone. The G1 is a new beginning for HTC.
Powering on the phone for the first time, you notice the quick boot time, about half that of a Windows Mobile phone. The G1 boots in about 49 seconds, compared to iPhone 3G at 54 seconds (time from powering on, to main screen). You're given a quick welcome screen, and asked to enter in your Google Account, so that you can have sync services. More on that later. After that, you're dropped right to the "desktop".
The desktop is not like the home screens on any other cell phone. It's much more akin to the desktop of a modern computer. You have icons, a menu bar, an application dock, folders, and widgets. Like the iPhone, you flick your finger to scroll through these things. And, that's the next major thing that sets the G1 apart from any other HTC phone yet; it's designed for your finger. It only responds to a human touch.
Usage-wise, it's almost natural to immediately open the keyboard when using the device. I only found myself using the G1 with the keyboard closed… was when I made a phone call. Regardless of scrolling with the trackpad, or flipping with the finger… widescreen was the way to go. That's mostly because of the weight balancing on the G1. But, it works surprisingly well… All three inputs; keyboard, touch screen, and trackball, are all easily accessible. 
Unfortunately, we can't really weigh in on call quality as of yet. Same with battery life. Why? T-Mobile has said that the Sacramento market will be 3G when the G1 launches… but as of yet, we haven't seen a any 3G coverage. It is a bit concerning that T-Mobile is committing to launching a 3G network, but hasn't opened access less than a week before launch.
The mini-USB port at the bottom carries a port cover. It's a nice addition, and despite some who had concerns about it, the port cover was easy for us to open and plug things into. Unfortunately, as had been rumored, the standard Ext-USB port adapter (which allows the USB port to be used as a 3.5mm headphone jack), is absent from the included accessories. This is simply unacceptable; HTC bundles this with every Windows Mobile phone… Android should be no different. Ideally, T-Mobile should rectify this and offer to mail all G1 owners an adapter.
Advanced Features
There's a lot of advanced features in the G1. First and foremost, is the ability to switch applications easily. By holding the home button down, a task switcher (very reminiscent of alt-tab or command-tab on Windows and Mac OS X) appears. This allows for several applications to be running at once, applications quit after not being used for a prolonged period. This allows you to maintain an IM session, while looking up a webpage, while on hold in a phone call. And, it just works.
In short, the G1 has shown that a smartphone really can multitask. That's something that most of the competition has simply failed at… one way or another. 
Wi-Fi. I thought that iPhone really was the best Wi-Fi implementation that could be crafted. Well, Google one-upped Apple. Wi-Fi base stations that come into range, show up in the menu bar. A quick flick of the menu bar lets you connect to new base stations in range. There's no nagging notification dialogue that interrupts what you're doing. If you want to wardrive, just flick down the menu bar. If you want to keep using 3G, you don't need to do a thing.
Camera. This was an interesting one… as there is no video recorder. It's shocking how Google and HTC could have missed the need for one, after watching iPhone attacked endlessly for this. However, with still photos, it has an excellent interface. The pressure-sensitive camera button handles the auto-focus with ease. In fact, the only interface elements in the camera application, are a green light that appears when there's an auto-focus lock… and a balloon that appears to tell you where the camera button is initially.
Also, the Camera application supports grabbing GPS location data, and gives fairly good response times. Is the much-more-expensive Touch Diamond better? Maybe… but it's certainly close. And, again, this really shows what Android can do, considering the age of the G1's hardware.
The G1 ships with IM, Google's first instant messenger that reaches beyond the walls of Google Talk. While it includes Google Talk, it also supports other instant messaging services.
Shockingly, we were not informed that IM services other than Google Talk do indeed use text messages, as opposed to data. There was no mention (in the application) that IMs sent via Google Talk would be free (using unlimited data), but that AIM/Windows Live/Yahoo messages would be charged SMS rates.
Mail was one of the key areas where we hit some bugs. First, there are two Mail applications. One for Gmail, one for all other IMAP/POP3 email accounts. Both appear to be using the same source code, with the Gmail app having a different interface (with Gmail specializations). Unfortunately, Mail is a bit buggy. It has some of the same IMAP root path bugs that iPhone had when it first shipped. Worse, we couldn't work around them with hard-coding… each inbox called itself INBOX.Mail.something.
The media players are a bit interesting… and a bit of a letdown. The Music player is only marginally better than the now-ancient Windows Media Player. There is no video player, aside from an early version in the Android Marketplace. YouTube is the only video player on the phone. YouTube does, however, work quite well. It pulls video from the same H.264 path that iPhone uses.
Speaking of the Android Market, this is where Google starts to turn things around. Android Market is fast, reliable, and we only encountered one time where we had to re-launch the Market, in about a week of usage. While there are only a few apps listed now, it does pale in comparison to Apple's App Store, this is largely due to the G1 not being out yet. Unlike iPhone, developers haven't had a chance to test software on the device itself… something key to testing and approving software.
Sync services are a good start, but still quite a ways from MobileMe. Google needs to have Windows and Mac OS X desktop integration, to close the loop. Right now, Android is great with syncing to the online cloud… but the cloud isn't good at syncing back to your computers.
Maps works great, our only problem was with the GPS taking awhile to acquisition. It has poor in-building penetration. Outdoors and in a car however, GPS locks on quickly. Maps on Android is comparable to Google Maps for Mobile 2.3, and includes Street View. And, a hidden option allows for enabling Compass mode, which lets the accelerometer use Street View in a panoramic mode; browsing the Street View simply by moving the device around in a circular fashion. Compass mode didn't really work well. This could be due to the fact that most apps don't really use the accelerometer… as was noted above, landscape is the natural mode for most applications.
And, finally, the web browser. Google has said that Android is not using Chrome, but a different branch of Apple's WebKit browser. However, we question that a bit… Google may be holding back on calling Android's browser Chrome, but that may be so that we're compelled to advertise report on that announcement later. It's pretty clear that much of the advances in Chrome stem from Android's web browser. In fact, Android even works flawlessly with Google Gears, on standard desktop web sites. If they are different browsers, the same people helped make them.
Warning: Android is about to be compared to iPhone, a lot. This is because Safari and Android Browser share the same core browser code. It is an extremely valid basis for comparing the two devices.
The web browser works great. It zooms, sizes text well, and scrolls robustly (with both the touch screen and trackball). Tabbed browsing is pretty much identical to iPhone, as is the ability of the browser to load and render web pages. However, they do size text differently… Android does not benefit from the Resolution Independence technology, introduced in Mac OS X. Instead, Android changes the size of the text based on the zoom level. This works about 75% as well as Safari on iPhone. However, because the G1 benefits from being primarily used in landscape mode… it isn't as much of an issue.
Scrolling on Android Browser is about as elegant as Safari. However, because the display is not multi-touch, zooming is accomplished by buttons that appear whenever the finger is touching the display. Android also provides a magnifying glass feature, common on third-party browsers such as Opera Mini. Touching the magnifying glass (which appears next to the zoom controls), zooms the page out to a maximum level, and then provides a magnified box which the user can scroll. This allows the user to quickly jump to, for example, the bottom of a long web page. While functionally the magnifying glass is a bit of a hassle… it's less of a hassle than scrolling 25 times to get to the bottom of a web page in iPhone's Safari.
Both iPhone and Android include Google search. iPhone has search built-in to the scroll bar, and so does Android. Android also comes with a desktop widget to search right on the desktop… and we actually found it quite useful. The search bars also support Google's suggestion features, so search queries appear as you type. Moreover, we found searching on Android to be faster than iPhone 3G… even on T-Mobile's EDGE network. This is because iPhone defaults to the desktop version of Google web search. Android however, defaults to the AJAX-powered mobile version. So, while iPhone is desktop-perfect, Android doesn't need to reload the entire page, and thus, can search faster.
Note: iPhone users can take advantage of AJAX mobile search by pointing their browsers to mobile.google.com. And, iPhone also has a dedicated Google Search Application, which replicates the utility of the search widget on Android's desktop.
And, like Safari, Android's Browser is pretty devoid of extensions. There's no Flash support, and worse… PDF support is missing. In all, iPhone's Safari wins out clearly… but not by the glaring distance compared with other browsers. And, unlike iPhone, Android allows for unsigned code… so there's nothing stopping Adobe from adding PDF and Flash support on their own.
In the first section, I noted that the G1 was a 2006 phone hardware-wise. Well, this is what a 2006 phone can do with good drivers. Make no mistake about it, Android is a game changer. When I criticized Microsoft for not updating older Windows Mobile devices (there is no reason a 2003 Windows Mobile phone couldn't run the latest version), I coined the phrase that iPhone wants to be updated. Android takes that to a whole new level. Android doesn't wait to be plugged into a computer, it has an auto-updater running in the background.
Conclusions
Some will ask flat-out, is Android better than iPhone? Some will yell at us for brining up that question (yes, we read your comments… all of them). The answer is two-fold. As a not-yet-released phone, the G1 and Android do not have the polish that Apple has been able to build with a two year lead time. But, that said, the G1 has the promise to beat the iPhone down the road.
Like iPhone, Google has promised to continually improve Android, and HTC is in turn obligated to release those updates. A2DP Stereo Bluetooth is on its way for the G1, and Android Market will fill in some of the missing applications. Moreover, Android will let groundbreaking apps be released without hinderance. That will drive developers to the platform, and their innovations will drive users to it as well.
Clearly, Android needs a little polish. There are just some bundled applications that should be there. There isn't any default program for Weather or Stocks. The clock tool is just a basic Alarm Clock. However, with a Market, we don't need to knock the phone for missing these… AccuWeather already has a full weather app on Market, and Namco is even offering Pac-Man as a free download.
Probably the worst real problem with the G1, is the lack of pervasive 3G coverage… but, come next year, G1 variants will be headed to each and every carrier. The future is bright, Google has shown they can raise the bar, and the G1 will leave those on T-Mobile without feeling the urge to switch carriers, just to get one of the best phones on the market.
The important thing is that the platform is stable, it's fast, it's responsive. It just works.
 
On one final note, we would like to thank Google, T-Mobile, and HTC for giving us the opportunity to have an unprecedented early access with the Android platform. Android really has grown on us, but in one way Google may not have wanted to tip their hand to. Near the start of the review, I noted Android's home screen resembled a conventional desktop. It has become clear to me, that Android is Google's total operating system play. It could replace a desktop operating system tomorrow, and would overnight become the most popular version of Linux. Of course, Google wouldn't be content with that… but it is nice to know that Google has their desktop platform, and it's maturing on today's cell phones.
Pros: Google Android platform, no walled garden, responsive, fast, stable.
Cons: Missing headphone adapter, thick size, limited T-Mobile 3G coverage, video player in development.
Final Score: 5/5
Encyclopedia: T-Mobile G1 / HTC Dream