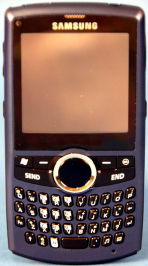 A HowardForums member has confirmed the forthcoming release of the Samsung i770 Saga through Telesales and online with a retail launch set for December 1st.
The device will be priced at $269.99 after a new 2 year agreement before an additional $70 mail-in rebate, bringing the total to $189.99.
The device will feature Windows Mobile 6.1 Professional, EVDO Rev. A, quadband GSM/EDGE for international roaming, QVGA resolution touch display, optical mouse/directional pad combo, 2.0 megapixel camera with video recorder, QWERTY keyboard, microSDHC expansion slot, Wi-Fi radio, Bluetooth 2.0 with stereo audio support, and speakerphone.
In related news, the release of the Saga will signal the beginning of the smartphone data plan requirement for all new smartphone devices launched on the 14th and going forward, which PhoneNews.com has covered in-depth.