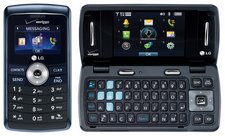 As expected, Verizon has launched the LG enV(3), the successor to the venerable enV(2) with a host of improvements.
The LG enV3 features a 2.6 inch QVGA internal widescreen display, larger external display, QWERTY keyboard, 3.0 megapixel camera with flash and video recorder, microSDHC expansion slot, Bluetooth with stereo audio support, GPS support via VZNavigator, 2.5mm headset jack, Novarra web browser, and support for V CAST Music with Rhapsody, V CAST Video and Visual Voice Mail.
The LG enV3 is now available for $299.99 Month-to-Month, $249.99 on a new 1 year agreement or $179.99 on a 2 year agreement before an additional $50 mail-in rebate via prepaid debit card, bringing the totals to $199.99 and $129.99 respectively.
Buy the LG enV(3) from Verizon Wireless
Verizon Cashback from PhoneNews.com