Verizon has launched a new green color for the LG enV messaging and multimedia device.
The enV, otherwise known as the VX9900, features an outer display with standard dialpad and a larger landscape QVGA display inside the horizontal clamshell and QWERTY keyboard, as well as stereo speakers, microSD expansion slot, Bluetooth with A2DP stereo audio support, VZNavigator support, and VCAST Music and Video support.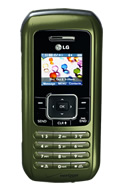 Pricing for the device is set at $129.99 before a $50 mail in rebate, bringing the total cost to $79.99. The phone is now available exclusively through Verizon dealers inside Circuit City locations nationwide.
Verizon has also launched the CDM-8330 branded under the name Verizon Coupe. The phone is intended for potential customers that are looking for a basic and functional phone for voice calls and basic messaging.
The phone features a dedicated 911 key, plus three dedicated keys for programming contacts in case of an emergency, and color coded side keys for easy identification of features (red for battery charging port, blue for headset port, white for volume control keys.)
The phone is now available for $19.99 after a new 2 year agreement.