By Humberto Saabedra on October 27, 2010
Sprint has announced two new partners for its nascent Sprint ID customization service for Android devices in Aol and Body Media. Both partners are in addition to the content partners announced during CTIA last month during the keynote announcing the customization service.
By Humberto Saabedra on October 7, 2010
Following yesterday's conference, Sprint has announced launch and pricing details for its midrange Android lineup in the LG Optimus S, Samsung Transform and Sanyo Zio. The LG Optimus S features a 3.2-inch capacitive touchscreen display, 3.2 megapixel camera with video recorder, 512MB RAM/512MB ROM underpinned by the Qualcomm MSM7627 at 800MHz, visual voicemail support, Sprint […]
Posted in LG, Samsung, Sanyo, Sprint | Tagged LG, Samsung, Sanyo, sprint, sprint id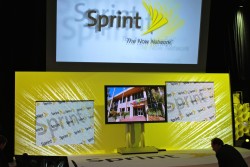 By Christopher Price on October 6, 2010
A complete photo gallery of everything you need to see on Sprint ID. From the press conference, to Sprint ID devices, to the entire pack experience, click read more below for the very first photos. Also, first live announcement photos on the web of the Samsung Transform.
Posted in Android, Sprint | Tagged Android Market, Google Android (OHA), sprint, sprint id, sprint id packs, where, widgets