Browse:
Home
/
Samsung Fascinate
By Humberto Saabedra on June 13, 2011
Verizon is currently pushing out a small maintenance update for Samsung Fascinate owners. The ED04 update improves incoming call reception along with improving OTA update reception ahead of the eventual Android Gingerbread update expected for the phone. The update will roll out for the next two weeks.
Posted in Android, Samsung, Verizon | Tagged Android, Samsung Fascinate, Verizon, Verizon Wireless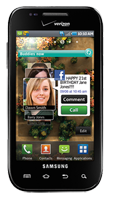 By Humberto Saabedra on April 20, 2011
Verizon will begin to roll out the long awaited Android Froyo update for the Samsung Fascinate starting tomorrow. The update will enable Fash 10.1, improved Exchange support, app installation on memory cards, bugfixes, and it will also pre-load V CAST Apps as well as Samsung Media Hub. The changelog is also available.
Posted in Android, Samsung, Verizon | Tagged Samsung Fascinate, Verizon, Verizon Wireless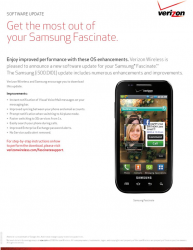 By Humberto Saabedra on September 22, 2010
Following up on the Droid X update, Verizon will also be rolling out an update to the Samsung Fascinate to address certain issues such as syncing between phone/email account sync, faster 3G /1xRTT handoffs, phone search while on a call, instant notification of Visual Voice Mail in the messaging bar, improved Exchange password alerts, faster […]
Posted in Android, Samsung, Verizon | Tagged Google Android (OHA), Samsung Fascinate, Verizon, Verizon Wireless | 1 Response
By Humberto Saabedra on September 10, 2010
Not even a full 48 hours have passed after the in store launch of the Samsung Fascinate before Verizon's internal technical service bulletin has been leaked with a spate of issues currently affecting the device, some with no immediate fixes while other issues are inline to be fixed with a future update.  Read more for […]
Posted in Samsung, Verizon | Tagged Samsung Fascinate, samsung galaxy s, TSB, Verizon, Verizon Wireless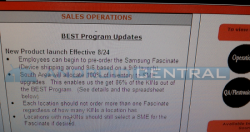 By Humberto Saabedra on August 27, 2010
Image courtesy of AndroidCentral Internal Verizon documentation has confirmed that the last major version of the Samsung Galaxy S in the Samsung Fascinate will be shipping on September 6th to stores for a launch three days later on September 9th. The Fascinate will be the last major carrier version of the Samsung Galaxy S series […]
Posted in Android, Samsung, Verizon | Tagged Google Android (OHA), Samsung, Samsung Fascinate, samsung galaxy s, Verizon, Verizon Wireless | 5 Responses
By Humberto Saabedra on June 28, 2010
Following up, Verizon has announced its version of the Samsung Galaxy S in the Fascinate, which will be identical in specification to the reference hardware, while US Cellular will also launch its version of the smart device under an as yet decided brand name also with identical specifications to the reference design (Android 2.1, Super […]
Posted in Carriers, Verizon | Tagged Samsung, Samsung Fascinate, samsung galaxy s, us cellular, Verizon, Verizon Wireless