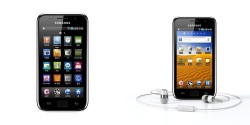 By Christopher Price on June 13, 2012
We tackle all three devices, after using them all quite a bit, and I'll explain why I'm so angry at these trio of devices.
Posted in Android, Editorials, Reviews | Tagged 3.6, 4.0, 5.0, Android, android 2.3, Android 4.0, autonomous gps, editorial, Galaxy Player, galaxy s, galaxy s wi-fi, Gingerbread, gps, Ice Cream Sandwich, ics, PMP, portable music player, Reviews, Samsung
By Christopher Price on July 29, 2010
Samsung's Intercept is designed to rival iPhone 3GS at the $99 price point. Hit read more for to see us unbox the new, budget Android smartphone, and we'll follow up with our first impressions shortly.
Posted in Android, Reviews, Samsung, Sprint | Tagged Android 2.1, Google, Google Android (OHA), Intercept, Reviews, Samsung, sprint | 10 Responses
By Christopher Price on September 12, 2005
We've just finished reviewing three products at once, so check out our reviews of the Sanyo MM-8300, Garmin Mobile, and Mapopolis. Think you have something mobile that you think is worth a review, contact us…
Posted in General News | Tagged garmin, mapopolis, MM-8300, Reviews, Sanyo, sprint | Leave a response
By Christopher Price on April 9, 2005
More reviews are coming, not just for phones, but for things that will make your wireless life, well, better (that is, if they work). Want your gadget/application/wireless gadget reviewed? Contact us.
Posted in General News | Tagged phone, Reviews | Leave a response