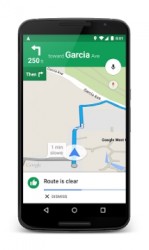 By PhoneNews.com Staff on July 11, 2015
Google takes a page out of General Motor's OnStar playbook.
Posted in Google, Navigation | Tagged Android, Google, Google Maps, google play, gps, ios, OnStar, turn-by-turn
By Christopher Price on May 8, 2012
Want a professional in-car Bluetooth integration install, for only $99? Hardware included? We show you how to get one.
Posted in Bluetooth, Deals, Verizon | Tagged Bluetooth, general motors, GM, OnStar, onstar fmv, saab | 2 Responses
By Humberto Saabedra on January 5, 2011
GM has announced that it will begin to offer its OnStar service as a non-OEM aftermarket installation option beginning this Spring through authorized aftermarket installers and Best Buy. The new service, dubbed OnStar Anywhere consists of a replacement rearview mirror with an MSRP of $299.99 which features the OnStar control panel as found on equipped […]
Posted in Bluetooth, General News, Navigation | Tagged Anywhere, GM, OnStar | 1 Response