Engadget Mobile has revealed another T-Mobile employee information slide with information on the aforementioned carrier's version of the BlackBerry 8120.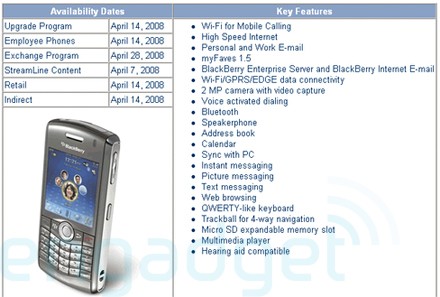 This version of the BlackBerry 8120 is similar to the CDMA version with an upgraded 2.0 megapixel camera with video recorder and flash, revised SureType keyboard, microSD expansion slot, media player, speakerphone, 3.5mm standard headphone jack, and Bluetooth with stereo audio support, with the T-Mobile version adding a Wi-Fi radio for data access and calls over UMA with HotSpot@Home as well as myFaves support.
It is also important to note that this phone was released by regional carrier SunCom during the purchase process of the provider by Deutsche Telekom, the parent company of T-Mobile USA, and it is not known whether SunCom customers with the device will receive a software update with all of the T-Mobile services enabled.  We encourage any such owner to inquire directly to T-Mobile and RIM about an update for their devices as well as comment.