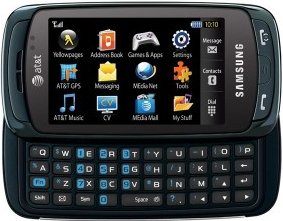 AT&T customers that have purchased the recently launched Samsung Impression have begun to speak up regarding a potentially frustrating and showstopping text entry issue.
The issue appears when using the onscreen T9 keyboard.
Typing a sentence with the letter j in an SMS message will cause the phone to crash, with many people and AT&T representatives reporting the same result on new devices after repeating the above actions multiple times to confirm the issue.
Neither AT&T nor Samsung have officially commented on the matter, and AT&T representatives are now recommending using the hardware QWERTY keyboard in lieu of the virtual T9 keyboard as a temporary solution until it is officially addressed.
Update: AT&T retail employees have confirmed to PhoneNews.com that there will be an over the air update released on May 29th that will address the virtual keyboard issue.