An image has surfaced from the QuizPoints survey provider detailing the possible successor to the Sidekick/Hiptop LX messaging and multimedia device.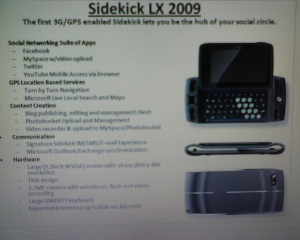 The above named Sidekick LX 2009 is meant to be a significant upgrade from the prior model with a 3.2 inch WVGA (854×480) resolution widescreen display, dual-band GSM/EDGE, 3.2 megapixel camera with video recorder and autofocus, microSDHC expansion slot, speakerphone, and Bluetooth with stereo audio support.
The device would also be the first Sidekick model with 3G data access, GPS, and also feature integration with Microsoft Outlook/Exchange, the Live suite of services, and Live Search and Maps support thanks to the purchase of Danger by Microsoft last year leading to the integration of the aforementioned services.
The device will retain the venerable messaging and email experience found in the Sidekick line while adding a social networking application suite that allows for publishing and uploads to MySpace, Twitter, Facebook, and PhotoBucket along with an improved browser that allows for direct viewing of YouTube Mobile.
No release details, if any are known at this time.