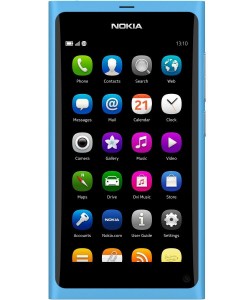 Nokia N9 owners are approaching a thousand signatures on a petition asking Nokia to uphold their commitments related to the Nokia N9.
The Finnish phone manufacturer originally promised to maintain, develop, and support the N9's MeeGo-compatible operating system through 2015. However, the device has not received a software update in nearly a year, and there are glaring software bugs and issues that the company refuses to comment on. The last update was offered in July, 2012, and boasted over 1,000 improvements and fixes.
After committing contractually to launch one MeeGo-compatible device, the carrier signed a deal with Microsoft, widely valued at one billion dollars, to move smartphone development exclusively to the Windows Phone platform. Nokia promised, at the time, to continue supporting N9 owners during this transition, and after sales had halted.
For awhile, Nokia did just that. Nokia ported and released Nokia Maps, complete with new features such as public transit guides and City View. And, the manufacturer released updates that included upstream improvements from the MeeGo standard platform. However, since Nokia's commitment to a 2015 timeline, changes have taken place. First, Nokia lost its MeeGo development team, which left to form Jolla and continue MeeGo development under the Sailfish banner.
Nokia's 2015 timeline probably was rooted in keeping a minimalistic internal MeeGo team, as well as backporting future MeeGo developments from the mainline MeeGo branch. That fell apart when Intel disbanded MeeGo (effectively), to form Tizen. Intel and the Linux Foundation have only issued one bugfix release to MeeGo since moving to Tizen, likely to satisfy contracts with netbook manufacturers, which actually did release some MeeGo netbooks in emerging markets.
With no internal development team for the Nokia N9, and no upstream improvements coming to MeeGo, Nokia is understandably challenged to keep its commitment. To do so, would mean hiring an entirely new staff of Linux engineers, and paving a new path for a stillborn platform. Even if they did that, improvements would not be dramatic. Bugs would get fixed, possibly new WebKit performance enhancements included, but nothing dramatic.
There are alternatives that may make N9 owners happy, but would probably anger investors. One option would be to pay Intel to do a Tizen port for the Nokia N9. Intel has the engineers, and the resources to offer a Tizen build.
In a similar vein, Nokia could contract with Jolla to align its Sailfish platform with the N9. Jolla has demonstrated its MeeGo-derived Sailfish on the N9, and clearly has used it as a reference device for development. Nokia and Jolla have a patent sharing arrangement, and there clearly are some communication lines open between the two companies. Many have rumored that a re-acquisition of Jolla by Nokia is the company's fallback position, should Windows Phone stumble further.
Another option, would be a goodwill buyout for N9 owners. Nokia could offer N9 owners a trade-in program for a Lumia 920, and throw in a wireless charger in exchange for being boxed into Windows Phone's walled garden.
It wouldn't be unprecedented. Apple spent many millions of dollars buying back every PowerBook 5300 that they could. Under Steve Jobs' personal direction, the company offered Wallstreet-era PowerBook G3 models nearly at-cost for handing over PowerBook 5300 units. The trade-in offer was so lucrative, it actually increased the aftermarket value of the PowerBook 5300, by hundreds of dollars.
The fact remains, many, including us here at PhoneNews.com, haven't forgiven Nokia for what they did to MeeGo. It's the main reason we haven't reviewed a single Nokia device since. MeeGo was the shining city on the hill for open source software. It was a native, real time operating system, rooted in Linux, and open; it had no gatekeepers, and it had the walled garden on the run. Microsoft knew this, and bought off accordingly.
It may be wise for Nokia to consider buying back each and every N9 out there. It's the cheapest way to appease customers who have a darn good reason to feel angry at Steven Elop's gamble.
The author of this article invested, and lost, tens of thousands of dollars in the construction of a MeeGo connected TV device. He's currently working, for some reason, on a new one.