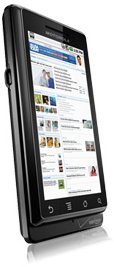 Motorola had opened up its dedicated portal for the forthcoming Motorola Droid earlier today, with the name confirmed to be licensed from LucasFilm.
The primary technical specifications for the Droid consist of the 3.7 inch WVGA resolution capacitive touch display, QWERTY keyboard, 550 MHz application processor, microSDHC expansion slot, Android 2.0, 5.0 megapixel camera with LED flash, autofocus and DVD resolution video recorder.
Secondary specifications include Bluetooth with stereo audio support, Wi-Fi radio, light sensor accelorometer, proximity sensor, GPS support with transceiver, WebKit based browser with HTML5 and future Flash support scheduled for 2010 along with speakerphone.