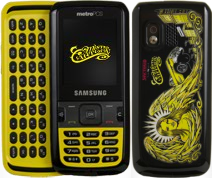 MetroPCS will be offering a Limited Edition version of the popular Samsung Messager with a custom design by renowned tattoo/graphic artist Mister Cartoon.
The phone will be limited to 30,000 copies and will be launched via auction in four days, with the first 10 of the 30,000 total units featuring stickers of authenticity.
Proceeds generated from the auction will fund Los Angeles based community centers, at-risk youth outreach programs and art supplies for schools in the Los Angeles area.