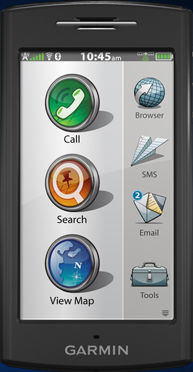 Garmin announced during their quarterly conference call, that the Nuvifone will not launch this summer as previously announced. Instead it will launch in the "first half of 2009."
The company explained the delays were due to carrier demands that were added to the device, and that the carrier adaptation process has been more difficult than Garmin expected. This is in stark contrast to Apple's iPhone, which the Nuvifone is often compared against. Apple touted their accepted demands that AT&T not have significant changes/involvement on the development of the device.
A more direct explanation may come in the form of Nuvifone's stability, as well as the changing market. Apple has clarified that iPhone 3G not only can do GPS Navigation, but that it will in the near future. This means that Nuvifone must perform well not just at being a GPS Phone, but at being an all-around smartphone. In addition, the device has been chronically unstable when shown, prompting Garmin to not give access to it at trade shows, despite touting the offering at each and every event.