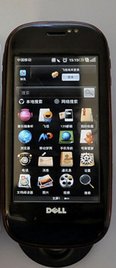 According to this report, Dell will be launching the currently China only mini 3i Android-based smart device on AT&T during the first quarter of 2010.
The report goes on to state that the US 3i variant will be revised from the Chinese model with a different Android build than the custom oPhone implementation currently used by China Mobile.
This follows months of rumor and speculation regarding the device and specifications which are expected to consist of a 5.0 megapixel camera over the Chinese 3.0 megapixel unit, slimmer bodyshell than the iPhone and the iPhone alike user interface along with other rumored additions such as a Wi-Fi radio and 3G access.
Dell is also said to be modifying Android into its own build and shipping the phone with modified or missing Android libraries, making it a different variant of the operating system with some Android apps not working on this version according to other reports.