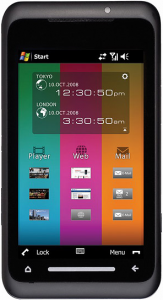 In a press event held in London this morning ahead of the Mobile World Congress, Toshiba has unveiled the first commercial device to run on Qualcomm's long-promised Snapdragon platform intended for high-end smart devices and MIDs.  The chipset found in the Toshiba TG01 is the Qualcomm Snapdragon QSD2850 which features A-GPS functionality along with a 1GHz processor and GPU from ATI integrated in one unit.
The Toshiba TG01 featureset includes quadband GSM/EDGE, single-band HSPA 7.2 high-speed access, a 4.1 inch wide touchscreen display at WVGA resolution, accelerometer for motion control and screen orientation, and a custom 3D user interface on top of Windows Mobile 6.1 Professional.
Further, the device also includes a microSDHC expansion slot, Bluetooth with stereo audio support, 3.5mm headphone jack, Wi-Fi radio, and both an autonomous GPS receiver and A-GPS support, along with a 3.1 megapixel camera with video recorder and auto-focus.
The device is expected to be available in Europe beginning in the summer, with no US release planned.