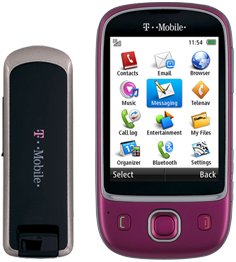 T-Mobile has launched the eponymous Tap budget touchscreen device and the Huawei webConnect Jet USB modem.
As reported last month, the Tap is a touchscreen phone that resembles the HTC Touch with a 2.0 megapixel camera with video capture, GPS and stereo Bluetooth support and microSDHC expansion slot, while the Huawei Jet features quadband GSM/EDGE and dual-band AWS 3G support for T-Mobile's 3G network.
The Jet is available for free after new 2 year agreement and webConnect data plan, while the Tap is available for $79.99 after new 2 year agreement and Even More plan selection or $179.99 outright under an Even More Plus plan with payment installments set at $20/month or $9/month respectively.