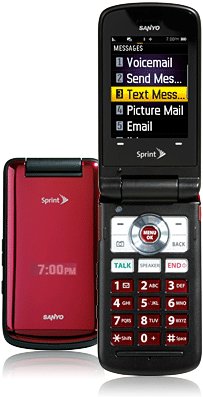 Sprint has launched the Sanyo 3810 and the long-awaited Samsung Moment.
The Sanyo 3810 features an external display with a mirror finish when not in use, internal 2.4 inch QVGA display, large keypad, menu size control larger for easy navigation through menus and sub-menus, 1.3 megapixel camera with digital zoom and Bluetooth.
The Moment features Google Search, Google Maps, Gmail and YouTube while featuring a Sprint first 3.2-inch AMOLED touchscreen display, sliding QWERTY keyboard and a virtual keyboard. Device navigation is handled by an optical joystick. Rounding out the featureset is an 800 Mhz processor, Wi-Fi radio, integrated GPS support, 3.2 megapixel camera with video recorder, stereo Bluetooth, microSDHC expansion slot and speakerphone.
Pricing on the Moment is set at $179.99 after a $50 instant savings and a $100 mail-in-rebate with a new 2 year agreement with the Sanyo 3810 being free after the same contract terms and $50 mail-in rebate.