Late yesterday, RIM officially announced the BlackBerry 8100 "Pearl". The new multimedia BlackBerry will be carried by T-Mobile in the US. The new BlackBerry delivers several firsts for the BlackBerry series, aimed at competing with modern multimedia phones. The 8100 includes a 1.3 megapixel camera and multimedia player, as well as microSD memory card storage.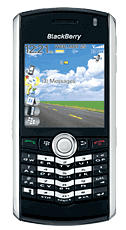 In addition, the BlackBerry 8100 integrates a trackball instead over the traditional scroll wheel, and also includes the new BlackBerry Maps service. While not currently GPS-enabled, BlackBerry Maps offers BB-formatted driving directions and maps, similar to desktop-formatted map services, as well as Google's
Maps for Mobile
. T-Mobile will begin selling the BlackBerry 8100 on September 12th.