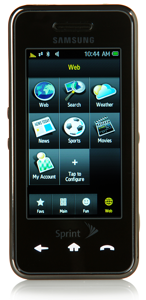 We run down every angle of Instinct. The iPhone competitor has the right features, but how does Instinct stack up against the competition? Read more to find out…

First Impressions, General Phone Functionality
The first question on everyone's mind is, does the touch screen work? While iPhone has arguably the best touch screen in the industry, its competition has failed to meet that standard. From the good in HTC's Touch, to the bad in LG's Prada, to the downright ugly in Verizon's Voyager… simply saying a phone has a touch screen doesn't say much at all.
Thankfully, Instinct has a good touch screen. In fact, of the non-PDA touch phones out there, Instinct is the best. Is it as good as iPhone? No, it doesn't have multi-touch, and it isn't as accurate, but we haven't found a touch phone that comes closer.
After the first touch, Instinct starts to get interesting… it's not a typical Sprint phone at all.
BREWed to Perfection?
After suffering the horrors of the Verizon User Interface, seeing that Sprint had touched every corner of the device's interface at first made our blood pressure rise. When carriers start messing around with the interface of a phone, the result usually is a device that gets a lot of low scores all over the place from us.
What Sprint has done though is made every application and service provider create custom, BREW-based versions of their applications to run on Instinct. In case you don't know, BREW is a competitor to Java, the application platform Sprint uses. Java is open to anyone for application development, BREW isn't.
What does this all mean? It means you get a consistent application experience. Everything just works. And, it does a few things even better than iPhone. For example, each time you launch an application… it automatically checks for a software update for the app. Rather than make folks wait for a firmware update, Instinct has the edge of being able to update every phone, all at once, simply when people open the application. That's how it should be. Even Apple makes you load the App Store to check for updates, as well as wait for firmware updates to patch their own applications.
The interface is well-polished. Sprint's uiOne efforts have paid off in this device, creating an interface that actually is better than what a typical Samsung phone has. There's consistency without any hinderances. And, the lack of being hindered is key, because that is the main objection to Verizon's User Interface.
Things get better, despite being in BREW, you can still run all the free Java applications out there as well. And, thanks to earlier devices like UpStage, Instinct's Java apps work fine with the touch screen.
Live > Google?
Instinct is one of the first phones to feature integrated Windows Live Search for free location based directory searches. Unfortunately, this is not something that you can pair up against Google Maps or Apple Maps. Live Search on Instinct only allows for directory listings, and map viewing from there. It's not as complete an offering as Live Search for Windows Mobile, but it does have the same excellent voice recognition.
Sprint Navigation however, makes up well for this. There's no question here, Instinct is a better GPS phone than iPhone or iPhone 3G. Live, 3D, voice-cued GPS navigation… and it all works with traffic data too.
Best of the rest…
Text messaging, visual voicemail, and the like all just work. Even they automatically check for updates too. You don't have to wait for a firmware update for Sprint to improve visual voicemail, and you don't have to ask for it either.
Voice quality, on the phone or Bluetooth, is excellent. Better than iPhone, and edges out iPhone 3G. While iPhone 3G has an improved earpiece, microphone, and speaker, Instinct doesn't require juggling the device around the ear.
We did not test phone-as-modem in our review. Others have reported sluggish speed over Bluetooth, but perfect EV-DO Rev A speeds when using USB.
And, the camera is excellent. It's a shame that iPhone 3G didn't rise to the occasion, but Samsung certainly made sure that Instinct's camera works twice as good as Apple.
Email. This is an interesting one. The experience is different from iPhone. But, it works quite well for reading. The Mobile Email is integrated at the OS level, auto-checks, and plays nice with IMAP. It's a super-charged version of the Mobile Email app for other Sprint phones. It's nice, at times a little sluggish. Where it misses though, is that it has all the same problems iPhone had before its 2.0 software bump. Namely, it's a pain to mass-delete email, and has poor push functionality.
While the email app does feature push support, it's actually a bit annoying. We just turned it off. This is compounded by the fact that Instinct, like iPhone, lacks any spam detection software. So, you can be constantly nagged by spam.
We did not test Instinct's new Exchange/Outlook integration, the successor to PCS Business Connection. However, reader reports are that it works well.
One bad thing… well, two bad things.
Unfortunately, there is one huge problem with Instinct. And that's the lack of an App Store. Yes, Instinct can run Java applications. But, Instinct is more powerful than what Java J2ME really was designed for. As such, the applications out there, for the most part, can't come close to the technical excellence of Apple's App Store.
What's worse, is that this appears to be more of a business decision, than a technical one. Instinct's counterpart in Korea, does have an App Store… and one that allows for AU-MIC OS apps to be written and submitted, just like iPhone OS apps on Apple. (Instinct is powered by the AU-MIC Operating System).
We're not entirely sure why they did that. But it does make us want to have an iPhone 3G in our pockets instead.
And the other bad thing…
One would think that a phone designed to answer iPhone, would have a solid web browser. Be it Opera, Picsel, or someone else… it does not make sense that Instinct has as bad of a web browser as it does.
It's really bad. The TV ads show someone ordering something online. We don't think that's possible, unless it's a circa 1990s web site. The phone chokes on desktop web sites, while it does play quite well with mobile web sites.
Worse, Samsung tried to innovate in areas that don't even make sense. They attempted to use the camera as an optional accelerometer for scrolling web pages simply by moving the device. One, it doesn't work. And, two, the web browser is so poor that you couldn't benefit from the functionality to begin with.
Conclusions
While I don't think the flaws in Instinct will be fixed, I'd love to be proven wrong. There's nothing preventing an App Store with a firmware update. There's nothing stopping Samsung from "updating" the web browser with a whole new one. But, let's be realistic; these are selling points that Samsung can use to make you buy another Instinct.
Can we suggest Instinct? Sure, with reservations. The first being, don't think it's an iPhone. It isn't, though it comes close (and surpasses the device) in many aspects. Second, don't expect it to have a good web browser. Unfortunately, the best web browser on Sprint right now… is an HTC Mogul slinging Wi-Fi to an iPod touch. And, third, be happy with the functionality that comes out-of-the-box, you won't be getting more.
And, if you're on SERO, or a grandfathered Sprint plan, Sprint's artificial (and truly, technically, needless) plan requirements (that you must use a Simply Everything plan), make us suggest a PDA or Smartphone instead. It's certainly not worth the added $480/year in needless plan costs. For that money, you can buy an HTC phone without a contract.
That said, this phone may help Sprint get back on track. It's a good phone that needs some work. It remains to be seen if Sprint will do the right thing and push through to make those improvements happen. As usual though, we encourage buyers to take a device for what it is, not what it can be. And, right now, Instinct is the king of answers-to-iPhone… but it is no iPhone.
Pros: Best non-smartphone on Sprint, great GPS, great camera, great unified offering, EV-DO Rev A.
Cons: Awful web browser, no App Store, artificial plan limitations.
Final Score: 4/5