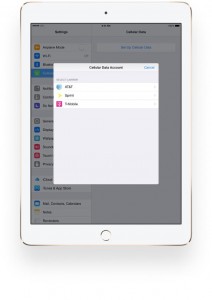 It seems that in Apple's quest to make things easier for the sake of its customer base with Apple Pay and the Apple SIM in the iPad Air 2/Mini 3, it has managed to frustrate retailers and carriers in the process enough to take blatantly spiteful actions against the manufacturer.
The Case Of The Locking Apple SIM (When Activating Service On AT&T)
While the quiet acknowledgement of the Apple SIM after the latest press event was initially heralded as the first step towards a reality where devices would be carrier agnostic and lead to a future that would no longer require the purchase of carrier-specific hardware, the reality of the situation shows how far we still have to go to reach that point, and how short-sighted some carriers can still be in terms of competition.
After early reports began surfacing that those iPad Air 2 models purchased through Apple with the Apple SIM and activated with AT&T were suddenly SIM-locked to that carrier and didn't allow activation on other carriers afterward, Apple was forced to issue the following Support article in order to explain the phenomenon:
Using Apple SIM, you can choose from different cellular carriers and their various programs. The data plans vary by carrier. For instance, in the United States, you can choose a domestic plan from either Sprint or T-Mobile and also pick an alternate plan from the other carrier as needed. When you choose AT&T on iPad Air 2 and iPad mini 3, AT&T dedicates Apple SIM to their network only.

If your Apple SIM becomes dedicated to a specific network and you want to choose from other carrier programs, you can purchase a new Apple SIM from an Apple Retail store.
Meanwhile, Apple was forced to clarify the extent of the Apple SIM support from carriers:
If you purchase your iPad Air 2 or iPad mini 3 from a carrier retail location, your Apple SIM will only be compatible with that carrier's program. If you purchase your iPad Air or iPad mini 3 from an Apple Retail, Apple On-line store, or a reseller within countries where Apple SIM is supported, you'll have all participating carriers to choose from.
The above ties into the revelation that Sprint is also refusing to carry Apple SIM cards in Sprint retail stores and is instead forcing its own SIM cards in its own iPad inventory, but it is not locking the Apple SIM equipped models purchased from Apple in the same way as AT&T. Verizon is also forcing its own SIM in its iPad inventory and those that are planning to purchase an iPad from Apple will need to plan on going to either an Apple Store or a Verizon store for a Verizon SIM card, as Verizon is refusing to support Apple SIM.
Following these developments,  T-Mobile's John Legere took to his Twitter account to explain how T-Mobile is handling Apple SIM, confirming that the carrier is not locking Apple SIM equipped iPads to its network and even went as far as detailing Sprint's requirements on hardware serial number registration before activating hardware in order to shed more light on the developing situation regarding carrier reaction to Apple SIM.
 Pharmacies Fight Back Against Apple Pay (and NFC Payments In General)
Following the dust up with carriers and Apple SIM, retailers are also becoming annoyed with Apple over the seeming increase in popularity of Apple Pay since the service launched this past week.
Reports have now surfaced in the media that CVS and Rite Aid pharmacies have deactivated the NFC hardware found at all points of sale in all locations in favor of a QR-code based transaction system known as CurrentC, which is scheduled to launch nationwide next year. This means that all NFC-based payment systems including Google Wallet and SoftCard (nee ISIS) are now no longer supported throughout the chains, as well as credit cards and debit cards equipped with NFC chips.
While CVS and Rite Aid were not officially Apple Pay partners, the fact that it took increased NFC payment activity after years of owning and operating the equipment to shut it off for a self-developed system that utilizes a less secure third-party app and QR code system tied to prepaid debit cards and bank accounts speaks volumes to the contempt that the group behind CurrentC has for credit card companies in the Merchant Customer Exchange, as CurrentC is an attempt to dodge credit card processing fees, and features notable backers such as Target, Walmart and Best Buy, who have also openly voiced contempt for Apple Pay.
While this means that these two chains are making it more difficult to use NFC-based payment systems, the fact that Apple Pay could be used so easily without needing to be an official partner means that Apple Pay managed to make NFC payments and mobile wallets appealing to the masses, something that the previous systems in Google Wallet and SoftCard failed to achieve.