This morning during an online presentation  known as the Nokia Virtual Event, Nokia has confirmed pending availability of three of the most highly anticipated devices in the N-Series lineup of high-end multimedia devices that will be compatible with US 3G bands.
Beginning with the N79, the bar phone features quadband GSM/EDGE support and triband W-CDMA access with HSPA high speed data, interchangeable XpressOn rear covers that trigger different user interface themes on the device, accelerometer for changing screen orientation and motion control, a 5.0 megapixel CCD camera with Carl Zeiss branded optics with dual LED flash and light for video recording.
The phone also features a microSDHC expansion slot with support for 16GB cards, Bluetooth 2.0+EDR with stereo audio support,  Symbian Series 60 with Feature Pack 2, 3.5mm headphone jack, TV output, speakerphone, FM transmitter, N-Gage games support, Wi-Fi radio, and A-GPS support through Nokia Maps.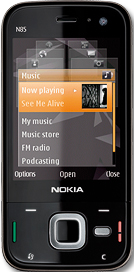 The next device up for release is the N85 slider, which has an identical featureset to the N79 and adds dedicated gaming controls for the N-Gage service, and an OLED display.  Both phones are expected to release in the fourth quarter with US pricing unconfirmed at this time.
The last device to recieve official confirmation is the N96 dual slider.
The successor to the N95 will feature a 2.8 inch QVGA display, quadband GSM/EDGE, triband W-CDMA with HSPA access, a built-in "kickstand" for viewing video content at a comfortable angle, 16 GB internal memory with microSDHC expansion slot, 5.0 megapixel camera with Carl Zeiss optics and LED flash, Wi-Fi, Bluetooth 2.0, and A-GPS access, speakerphone, and N-Gage gaming service compatibility.
The device is expected to be available for $895 sometime during the fourth quarter of this year.