New images have surfaced detailing two upcoming BlackBerry smart devices.
One is a direct response to the iPhone in the Thunder while the other is a variant of the upcoming BlackBerry Bold 3G device without the bespoke high speed data access.
Image courtesy of CrackBerry.com
The BlackBerry Thunder will be launched as an exclusive device on both Verizon Wireless and Vodafone in the Uk when it is expected to launch in September with OS 4.7, the first version of the Java-based BlackBerry operating system to support touch displays.
What is also known about the device is that it will function like a BlackBerry, right down to the simulation of tactile feedback on an actual keyboard by having the display act as one large button with local haptic feedback, addressing concerns that many have brought up concerning the utility and viability of such a device for a class of users known for their near religious devotion to the device in its current form.
The device will also continue to rely on the menu key for the majority of tasks, retaining the familiarity people come to expect from a BlackBerry while offering both standard QWERTY and SureType converged keyboard configurations depending on orientation.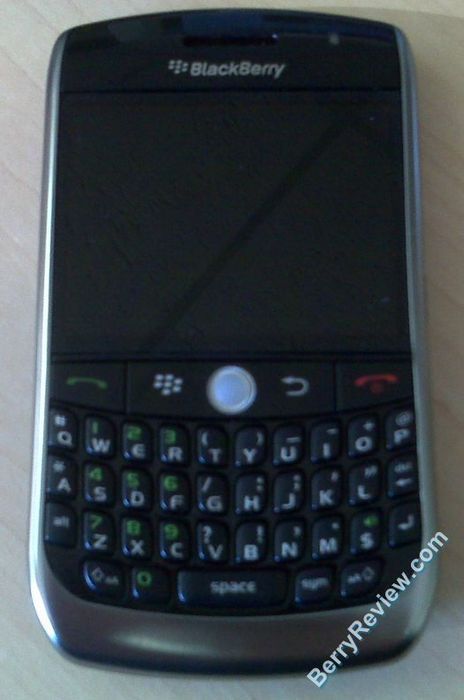 Image courtesy of BerryReview.com
The next model revealed is the non 3G version of the Bold codenamed Javelin.
Ever since the first leaks of the new generation BlackBerry devices surfaced, the above mentioned BlackBerry variant was always mentioned in the same breath as the more powerful Bold, due in part because it is planned to be the next device to launch after AT&T's exclusive on the Bold ends at the beginning of next year, with the Javelin expected to launch next year.
The featureset of the Javelin is expected to be similar to the 3G enabled Bold save for 3G access being replaced by quadband GSM/EDGE support and is otherwise identical with GPS support, Wi-Fi radio, 3.2 megapixel camera, Bluetooth 2.0, and microSDHC expansion slot.