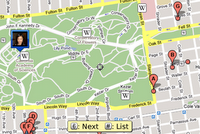 Google has announced the addition of "Layers" to Google Maps for BlackBerry.
With the addition of layers  you are now able to view different types of information about the area around you.
" For example, you can turn on the Wikipedia layer to read entries about nearby places, then use the transit lines layer to help map out a route. Or you can use the My Maps feature of Google Maps to create a collection of places you're planning to visit on your trip and then use Google Maps for mobile to access it from the road. You can also turn on the Google Latitude layer to see your friends' locations."
Another great way to utilize layers is to set a layer to display train routes or bus tops.  By having these layers you can toggle them on and off based on your needs at the current time.  To download the updated Google Maps App, head over to m.google.com/maps with your BlackBerry browser.  Google Maps with Layers is also available for Windows Mobile and S60.