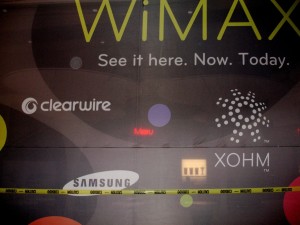 The WiMAX Forum put its presence this year right in front of CTIA attendees… literally. The official WiMAX association was camped out right in front of the entry way to the exhibit floor. Sprint, Intel, Motorola, and Samsung among other companies all touted their latest WiMAX offerings. Read more to see them in live action.
The theme of the WiMAX Forum, as pictured above, is clear: WIMAX is available now, LTE is not. And, they hit this home with live demos of video conferencing on-site (as well as with users that were traveling around the convention center). There were also live video cameras that enabled you to video call other notebooks around the show using
WiMAX.
One thing that appeared missing however was the real advertising factor. It would have been nice to have seen mini kiosks throughout the show that were linked up, hitting home that WiMAX worked for video calling. As such, you really had to seek out to try out WiMAX.
But, WiMAX went off without a hitch, we did not encounter one issue when trying it out at the entire show.
The WiMAX forum booth also showcased several new devices, including Sprint XOHM-branded gear as well. All of them are photoed and explained in the gallery below.