Kyocera has emerged as one of the industry's most revitalized manufacturers this year at CTIA.
Starting with the announcement that the Japanese parent company has completed its acquisition of Sanyo's US mobile phone division, the one time manufacturer of entry-level basic phones for small carriers has evolved into a potential player in the general wireless handset development marketplace.
The manufacturer has announced its first CDMA AWS-compatible devices and has completely reimagined its CDMA handset design philosphy, offering features now considered common in other handsets and actually reaching parity with more established CDMA handset manufacturers, addressing common issues regarding stability and reliability.
The manufacturer has also announced its entry into the crowded GSM handset development space by announcing its first GSM lineup, primarily intended for Latin American networks that have recently converted from CDMA to GSM. Read More for a detailed look at both GSM and CDMA lineups.
Kyocera has long been known for offering basic, no-frills devices designed primarily for voice only use.
When attempts were made to expand into multimedia features in the past, such as offering something as simple as a WAP browser, the phones would suffer from bugs that would lead to devices being rejected for final approval, or even the addition of unstable firmware that would manifest itself in odd behavior during normal operation which was especially evident with their first attempt at developing CDMA EVDO devices for now defunct carrier Amp'd Mobile and their first phone with a media player and memory card slot .
Thanks to the recent purchase of Sanyo's former wireless phone division, Kyocera's research and development has improved markedly from the past and has come up with phones that utilize almost all of the hall marks of the former Sanyo wireless phone division.
The first phone to benefit from the new developments in CDMA is the Kyocera Neo E1100.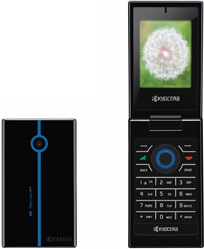 The stark black clamshell resembles a Japanese market model right down to its large reverse hinge and features a 2.2″ QVGA internal display, hidden outer OLED display that illuminates within a lightpipe that denotes incoming calls, messages, and other functions, a 1.3 megapixel camera, Bluetooth 2.0, WAP browser, email client, BREW support for games and applications, and voice dialing.
The second phone in the new lineup is the Kyocera Mako S4000.
The clamshell is targeted towards those that would like to strike a balance between features and stability while remaining stylish at the same time by featuring a VGA camera, external display, large keypad,1.8″ internal display, and BREW support for games and applications.
The last phone to benefit in the CDMA line up is the Kyocera Adreno S2400.
The simple appearance of the clamshell belies its featureset as it includes a large 1.8″ internal display, external display for caller id, and MP3 ringtone support.
To close out the CDMA lineup, all three models will feature support for the new CDMA AWS bands on the 1700Mhz frequency. All of the above phones are expected to launch sometime in the 3rd quarter.
Kyocera has also announced its entry into the GSM market with a lineup of four phones ranging from entry-level to high-end destined for the Latin American market starting with the E4600 slider, E3500 clamshell, E2500 bar, and ending with the S1600 thin bar phone.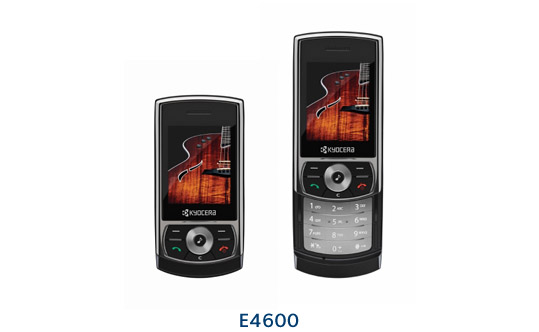 The Kyocera E4600 slider is meant to be the high end of the GSM lineup as it features quadband GSM support, a large 2.2 inch display, media player, microSD expansion slot, Bluetooth, and a 2.0 megapixel camera with video recorder.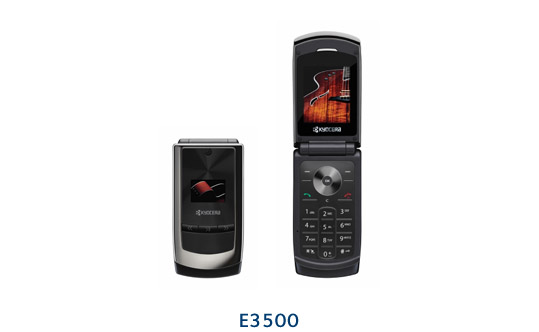 The Kyocera E3500 clamshell is meant to be a step down form the E4600 by downgrading the camera to 1.3 megapixels and display, but is otherwise identical feature wise by including the media player, microSD card slot, video recorder, Bluetooth, quadband GSM support, and adds external media player controls.
The E2500 is the bar version of the E3500 clamshell and is identical in features with quadband GSM, the 1.3 megapixel camera and video recorder, Bluetooth, media player, and microSD expansion slot.
The S1600 is meant as an entry-level device featuring a VGA camera, Bluetooth, and SMS/MMS support with dual-band support for either GSM 900/1800 or 850/1900.