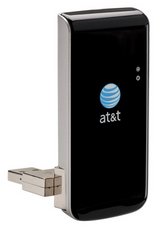 AT&T has announced the forthcoming launch of the Sierra Wireless USBConnect Lightning USB modem.
The modem is compatible with the ongoing 7.2Mbps network upgrade being launched across the country, with Charlotte, Chicago, Dallas, Houston, Los Angeles and Miami expected to launch the upgraded service the end of the year.
Pricing for the modem is set at $99.99 after new 2 year agreement and LaptopConnect data plan requirement before an additional $100 mail-in rebate, bringing the total cost to free on contract.