We've gone through the entire AppStore launch list. Find out what iPhone apps you probably haven't heard of, and why you probably will want them.
10) Sketches
This one is a cult classic of the jailbreaking movement. While it does now cost $7.99, the application has gotten a full rewrite.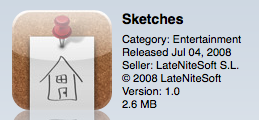 Ever miss your etch a sketch. Want to see how bad handwriting would be on the multi-touch display? Then this is the app for you. With multiple colors, drawing boards, email and photo support… you can write on just about anything with Sketches.
9) ICE
ICE, or In Case of Emergency, is quickly becoming commonplace on all phones. Essentially, paramedics are trained to look for the ICE function on a phone, and quickly access the emergency contacts that you would want to know, should something happen that renders you unconscious. Typically, you can work around this by creating a contact named ICE, and listing relevant numbers there.
This app goes quite a few steps farther. It lets you list emergency contacts, vital information, even allergies. For a $.99 app, this one is a no-brainer. Install it, fill it in, and hopefully never need it.
8 ) Moto Racer
Moto Racer is a heavily 3D intensive app for iPhone. Not only does it let you race around in 3D, but it relies on the accelerometer to turn. It's fast, and the graphics keep up with the pace. For only $9.99, it's a very well-polished game. A few things such as the inability to pause keep it from the top spots though.
7) Cro-Mag Rally
Pangea ports their classic racing game to the Mac. And, it's even more fun on iPhone. $9.99 gets you a $30 game for Mac.
6) Yelp
Local searches are nice, but what if you want to know something a little bit more… informative, than just a phone number. Yelp gives you reviews of locations by fellow yelpers. And, with location service integration, you get both the location you're at, combined with feedback of nearby places. It's even more useful than local searches inside of Apple Maps.
5) Truphone
Unfortunately, due to AT&T's restrictions on the AppStore, Truphone's appearance isn't as pleasant as we had hoped at first glance. Dreams of VoIP handoffs were dashed quickly. Instead, TruPhone announced that the service only works on Wi-Fi. Basically, you leave the app open, and whenever you get a call, it's bounced from your cell phone over to a VoIP call on Wi-Fi. Simple, and free.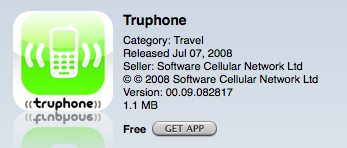 4) Jott for iPhone
Jott is a great service that we haven't mentioned on PhoneNews.com before. You call a phone number, and it transcribes whatever you tell it. But, calling a phone number is hard work. With Jott for iPhone, you now just tap and talk. You get a response back with whatever you said… this time in writing.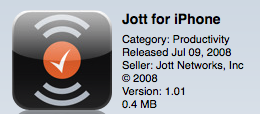 3) Pangea VR
One of the major gripes with iPhone vs Mac, is that Apple cut out QuickTime VR support from iPhone. And, with no Flash support… that meant that iPhone's multi-touch display, couldn't touch panoramic models. Thankfully, Pangea has filled that void, giving you one-touch access to the broad range of panoramas compatible with it's app. And, it's free.
2) NetNewsWire
The best RSS reader on Mac gets a full port to iPhone. Like all of NewsGator's other applications for consumers, it's free, and it syncs with all of their other clients. So, you can have RSS sync on your Mac, iPhone, and PC, without ever needing a web browser.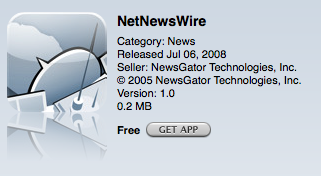 1) SEGA Columns Deluxe
The first of what will hopefully be many 16-bit ports to iPhone and iPod touch. While SEGA is giving most of its attention to Super Monkey Ball, this game puts a new twist on an old all-star classic. Columns is the arch nemesis to Tetris, and while it hasn't fared as well through time, it's great to see Columns make a day one launch on the AppStore. Now, where is Sonic CD?