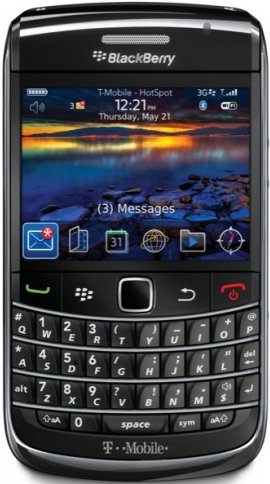 As expected, T-Mobile has launched the BlackBerry Bold 9700 after months of anticipation and leaks.
The Bold 9700 features BlackBerry OS 5.0, a 480×360 resolution landscape display, optical directional pad as found on the 8520, 3.2 megapixel camera with autofocus, video recorder and flash, as well as support for 900 / 1700 / 2100 3G and quadband GSM/EDGE access.
Rounding out the rest of the featureset will be Wi-Fi, Bluetooth with stereo audio support, microSDHC expansion slot and media player. T-Mobile's variant of the 9700 also allows for UMA voice calling over Wi-Fi.
Pricing is set at $199.99 after new 2 year agreement and Even More plan selection with required BlackBerry data plan, with Even More Plus pricing set at $449.99 outright, or a $22.50 down payment with 19 installments of $22.50/month with no interest and approved credit.