Sprint Nextel is gearing up to have the most aggressive Windows Mobile lineup ever. We'll cover their entire rundown of global, Smartphone, and Phone Edition devices you've never heard of before. Read more for all the details.
When Bad Gets Worse
Sprint is facing increased competition in the Windows Mobile marketplace. With Verizon having exclusivity deals on the Motorola Q and Treo 700w, as well as the cancellation of Windows Mobile devices such as the Samsung i645, Sprint has been left with only one CDMA and one iDEN Windows Mobile device in their current consumer lineup.
The growing pains are even more deep that at first appearance, for example, the reluctance to order non-camera versions of the HTC/UTStarcom PPC-6700 has left Sprint continuing to sell a very-tight supply of the older PPC-6601, despite having to admit to users it has abandoned plans to upgrade the device to either EV-DO or Windows Mobile 5, despite being able to technically deliver both additions.
Sprint has also had difficulty with the ability to deliver a PDA portal for Windows Mobile devices. Palm worked with Sprint to deliver the standard Vision portal on the Palm OS Treo line. Windows Mobile has had severe difficulty with integration. This is due to the lack of specific device profile standards, as well as the design of Windows Mobile's proxy stack.
By not being able to be integrated into the Vision Portal, Sprint has been forced to outsource all premium content to third-party providers, and has seen a complete lack of interest from GPS and other 3G technology content creators.
Catching Back Up
We can confirm that Sprint will pick up two devices previously exclusive to Verizon, the Treo 700w and Samsung i830. The Treo 700w will be released immediately upon the end of Verizon's exclusivity agreement at the end of June. The Samsung i830 is expected internally at Sprint to ship before that.
The Treo 700w will be identical to Verizon's version of the device, and the i830 will ship with Windows Mobile 5. The i830 is a non-camera PDA/Phone with GSM international roaming support. It will replace the PPC-6601 in Sprint's lineup.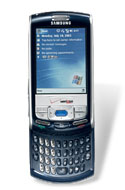 Sprint will also partner with MobiTV to deliver live television, immediately upon the release of Windows Mobile clients for the MobiTV's service. The partnership will be similar to Audible and Handango's existing agreements, relying on their own billing systems external to Sprint's.
Progress is also being made on portal integration. Savvy users have found sporadic access on existing Windows Mobile devices when forcing Sprint's proxy server for standard Vision devices, indicating Sprint is preparing to deliver the portal on future devices as part of the IOTA provisioning sequence. In addition, Sprint is aptly aware of the timeliness of software updates. Sprint is still the only provider to have approved and released an AKU2 update for the PPC-6700 or its GSM/EDGE counterpart after the release of the device.
Getting Ahead
Sprint will also target exclusive devices to begin to attract customers from other carriers. We can confirm Sprint intends is looking into two competitors to the Q being developed by Samsung and Pantech. Pantech has had difficulty integrating EV-DO, and Sprint has shown a lack of interest in Pantech's current non-EV smartphones.
The most likely candidate reported from sources inside the wireless carrier is a CDMA version of the Samsung i770, a flip-phone that runs Windows Mobile Phone Edition, though provides a flip-phone look and QWERTY keyboard similar to the BlackBerry 7100 series. However, while it is not clear that this particular device will launch on Sprint, there are several full-keyboard Windows Mobile devices that Sprint is considering that have not been previously announced.

Sprint is also working on making Windows Mobile a more traditional device. We can confirm Sprint has development partners for both SIP stack and H.264B systems. This will enable Sprint to offer ReadyLink PTT and Sprint TV on any Windows Mobile device with portal integration.