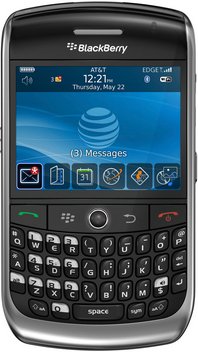 AT&T has officially announced the earlier launch of the BlackBerry Curve 8900.
The device will be nearly identical to the T-Mobile version a landscape HVGA (480×360) display, quadband GSM/EDGE 3.2 megapixel camera with autofocus, speakerphone, microSDHC expansion slot, media player, Wi-Fi radio, Bluetooth with stereo audio support, and GPS support via built-in transceiver.
AT&T will be bundling free Wi-Fi access across its growing network of hotspots with BlackBerry data plans as well as a free month of AT&T Global Navigator.
Update: AT&T has apparently launched the device a day ahead of its scheduled launch for $449.99 with No Commitment, or $299.99 after new 2 year agreement and BlackBerry data plan before an additional $100 mail-in rebate, bringing the total to $199.99.
Buy a BlackBerry Curve 8900 from AT&T
AT&T Cashback from PhoneNews.com